San Diego Zoo Safari Park staff, volunteers and guests gathered at the Park's Gorilla Forest this week (Tuesday, Sept. 11, 2018), to celebrate western lowland gorilla Frank's 10th birthday. Along with his grandmother Kamilah ("Kami") and other members of his troop, Frank enjoyed an exhibit filled with enrichment items that included cardboard animals, colorful browse, sweet potato cupcakes and a special ice cake made from flavored ice, decorated with yam paste, grapes, raisins, strawberries and greens.
Frank's birthday was extra special this year, as he was selected to participate in the Great Ape Heart Project (GAHP)—a national scientific program based at Zoo Atlanta and funded by grants from the Institute of Museum and Library Services (IMLS). The GAHP helps researchers investigate ape cardiovascular disease and establish uniform state-of-the-art cardiac diagnosis, which will promote efficient treatment and prevention strategies for great ape heart disease. The program also facilitates important communication among zoo veterinarians and human cardiologists, aiding critical research projects, and disseminating cardiac-related information and progress on cardiac disease investigations to the greater zoological community.
"The success of the Great Ape Heart Project hinges on the participation of zoo veterinarians and primate husbandry specialists, who realize how important it is to act collaboratively in order to help the animals in their care," said Hayley Murphy, DVM, director of the Great Ape Heart Project and vice president of Animal Divisions at Zoo Atlanta. "Cases like Frank and the dedicated staff at the San Diego Zoo (Safari Park) exemplify zoo staffs' commitment to the animals in their care."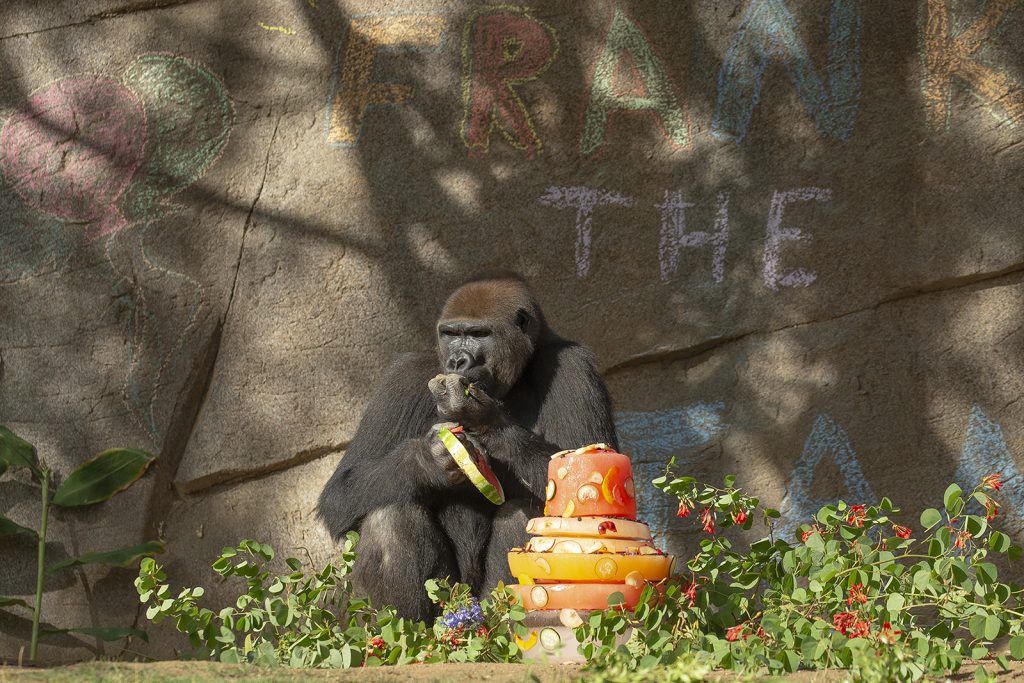 Because of their young ages, Frank and 7-year-old gorilla Monroe were considered ideal candidates to participate in an ultrasound imaging procedure that will give researchers useful baseline images to add to the Great Ape Heart Project's growing database. Heart data and imaging from Frank will be evaluated by experts at the GAHP and compared to imaging data from other apes of varying ages and circumstances. The non-invasive imaging procedure was carried out by cardiology specialists from Rady Children's Hospital – San Diego, who utilized ultrasound equipment to get a complete set of Frank's heart images.
"When we first learned of this opportunity, we were very excited about it despite the added challenges of performing an awake ultrasound on a gorilla," said Heather Evers, pediatric cardiac sonographer at Rady Children's Hospital – San Diego. "It could take us 1 to 2 months to get one full exam on a gorilla; whereas on a child or an adult, it would take only about 20 minutes. So, it's important to have a lot of patience when doing these studies."
San Diego Zoo Safari Park veterinarians said they are pleased with Frank's readings, as they appear to be normal for his age and species. They plan to repeat this ultrasound evaluation every two years.
"Frank has been trained by his keepers to participate in cardiac ultrasound for the past year and was a model animal for this program," said Lauren Howard, DVM, associate director of veterinary services at the San Diego Zoo Safari Park. "His contribution not only provides valuable information to the GAHP database, it will also help us design an appropriate assessment protocol to investigate (cardiovascular disease) in great apes and help establish reliable cardiac diagnostics, treatment and prevention strategies."
Gorillas are listed as Critically Endangered on the International Union for Conservation of Nature (IUCN) Red List of Threatened Species. Threats to the species include people hunting gorillas for food, called bushmeat; loss of habitat due to logging and mining; and disease, such as Ebola. The past 15 years have seen a dramatic decline in gorilla numbers, with almost half of the entire eastern gorilla species population believed to have been wiped out. San Diego Zoo Global has partnered with multiple organizations and local conservationists in Uganda, Rwanda, the Democratic Republic of the Congo and Cameroon to shed light on gorilla genetic variations across regions and to promote community-led conservation initiatives.
San Diego Zoo Safari Park guests can visit Frank, his grandmother Kami and the rest of their troop in the Gorilla Forest habitat. Gorilla Forest is home to a troop of eight western lowland gorillas, including silverback male Winston; adult females Kami, Kokamo and Imani; young males Frank and Monroe; and young females Joanne, born in 2014, and Leslie, born in 2016. To learn more about the Great Ape Heart Project, visit greatapeheartproject.org.