Zoo InternQuest is a seven-week career exploration program for San Diego County high school juniors and seniors. Students have the unique opportunity to meet professionals working for the San Diego Zoo, Safari Park, and Institute for Conservation Research, learn about their jobs, and then blog about their experience online. Follow their adventures here on the Zoo's website!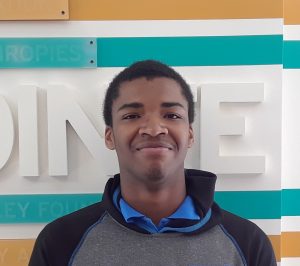 Hi everyone, my name is Delou'Von (pronounced Dehlowvon), and I am currently a senior in high school.
My hobbies include drawing abstract objects and landscape. I also like reading, which inspires me to write, another one of my hobbies. My favorite book series are: "The Divergent Series" and "The 5th Wave Series." I like to eat a lot… like, a lot. I also like watching tv shows. My favorite tv shows are: Shadowhunters, The Vampire Diaries and Empire. I also like Supernatural, Teen Wolf and Sweet/Vicious. I enjoy anime and school more than the average teenager.
I am hoping Zoo InternQuest will help me to figure out if zoology interests me. I do enjoy the company of animals, except butterflies—I have a big fear of butterflies. I also have a strong interest in math and engineering. I'm hoping that this program will help me figure out what path I want to take in life.
Delou'Von
Fall 2017 Intern