The San Diego Zoo's giant pandas, female Bai Yun (pronounced by-YOON) and male Xiao Liwu (pronounced sshyaoww-lee-WOO) were treated to some special enrichment this morning (March 2, 2017), in celebration of World Wildlife Day. Zoo volunteers created banners and several decorative items for the bears' habitats, in which keepers placed some of the bears' favorite treats.
Xiao Liwu's habitat was decorated with colorful boxes filled with Bermuda hay, pieces of carrots and yams, and world globes made from papier-mâché, filled with some of the 4-year-old bear's favorite treats of apple slices. Bai Yun's habitat was also decorated and featured six decorative pillows made of burlap, filled with Bermuda hay and sprayed with her favorite scents of cinnamon and wintergreen. She especially enjoyed a cinnamon-scented pillow, rubbing it all over her head and face for several minutes. The pillows represented the six cubs she has birthed. The habitat also sported 17 paper bag pandas representing her grandchildren, and one small paper bag panda representing her great-grandchild. And of course, both bears enjoyed their breakfast of bamboo.
The enrichment activity is significant, as it keeps the animals stimulated and active, allowing them to show their natural behaviors.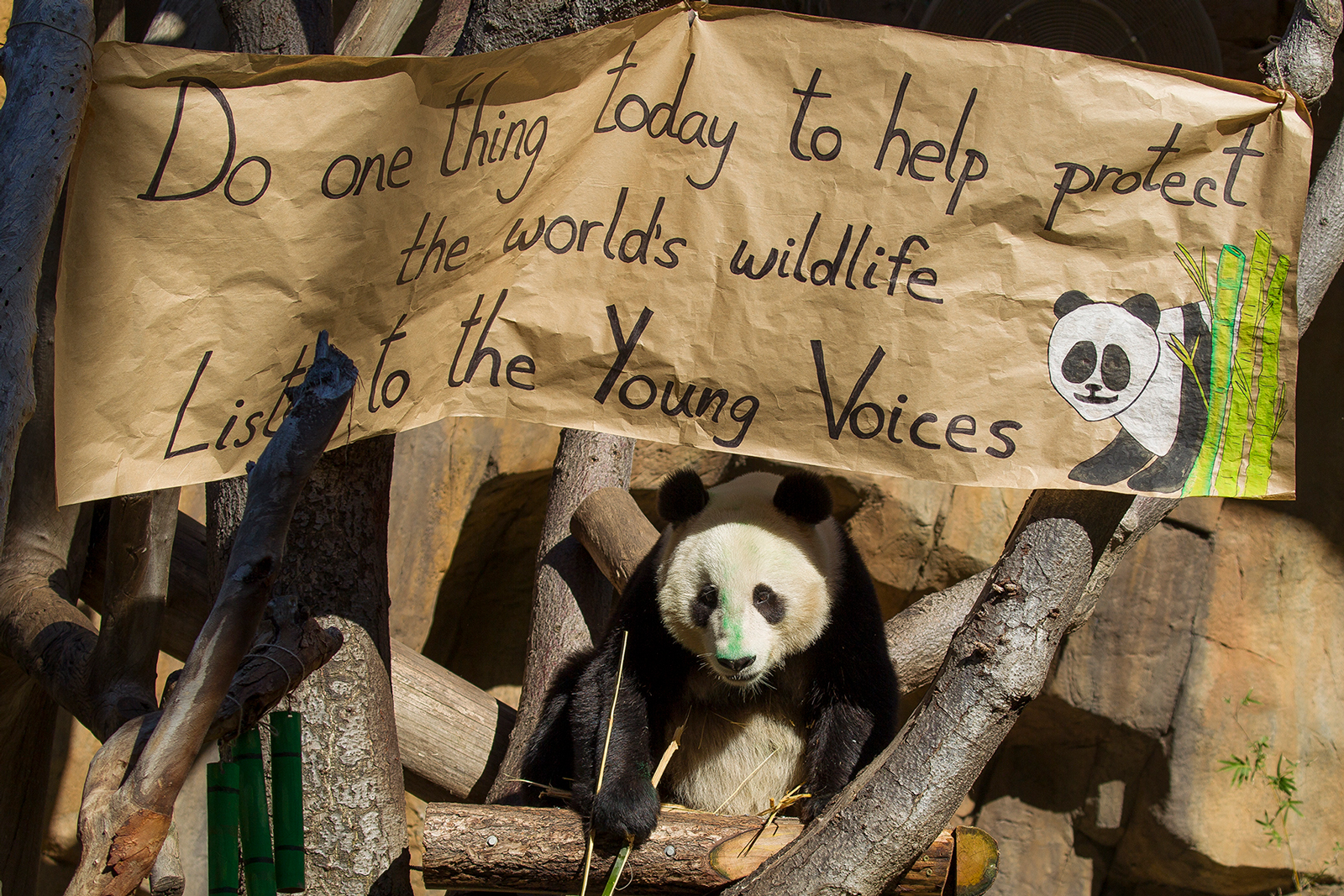 World Wildlife Day is a global celebration of the many and varied forms of wild animals and plants on our planet. It is an occasion to raise awareness about wildlife conservation and the plight of many threatened or endangered species. World Wildlife Day is celebrated annually on March 3, the day the Convention on International Trade in Endangered Species of Wild Fauna and Flora (CITES) treaty was signed in 1973.
The theme of this year's celebration is "Listen to the Young Voices," with a focus on connecting young people around the world to explore what wildlife conservation and protection mean to them. The hope is to instill a responsibility in individuals to take action for the future of both wild animals and plants, and to address ongoing major threats to wildlife, including habitat change, over-exploitation and illicit trafficking.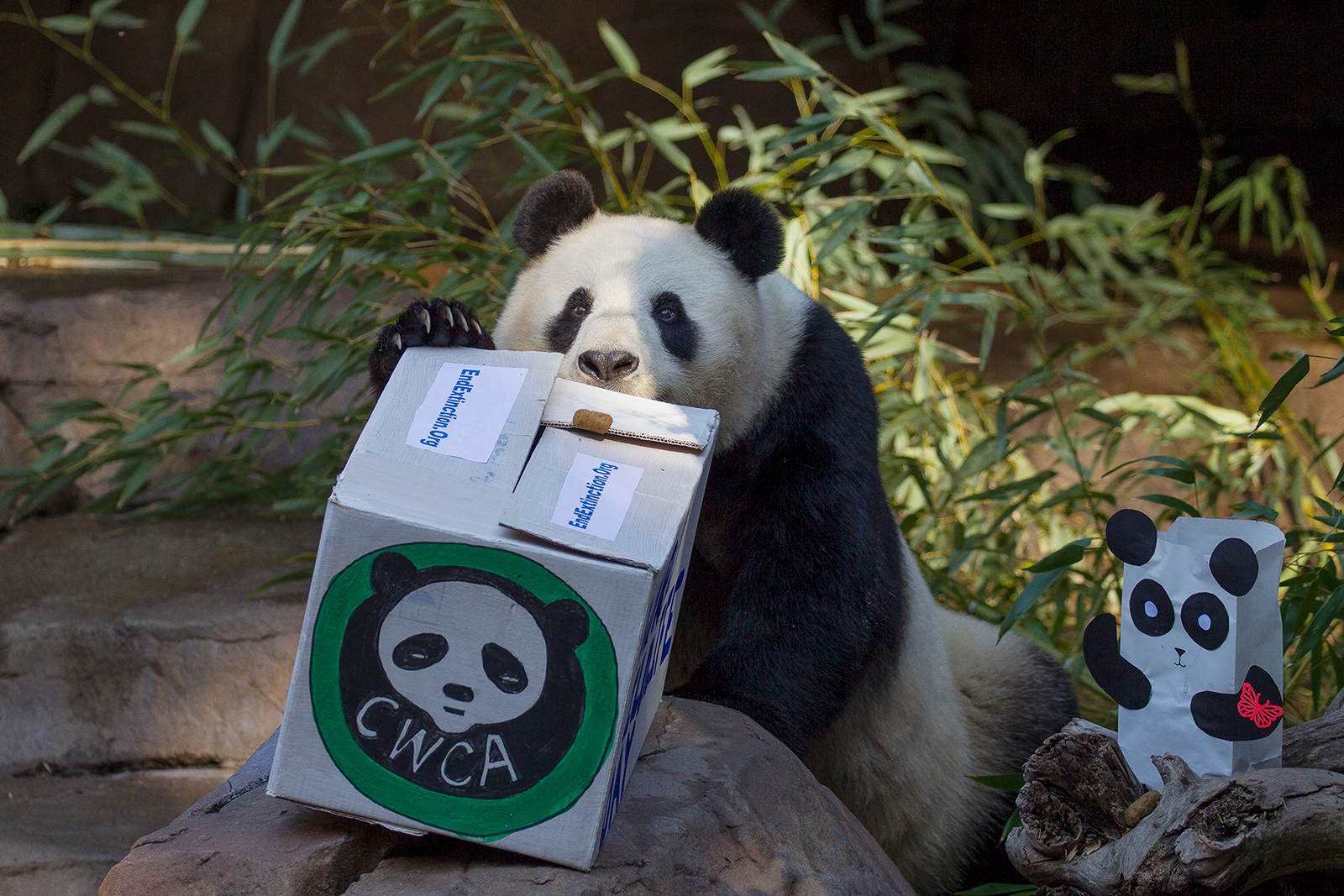 San Diego Zoo Global has worked with its partner, China Wildlife Conservation Association, for 20 years on all aspects of giant panda conservation in China—including husbandry management, behavior management, reproductive success, medical management, nutrition, wildlife disease investigation, construction of conservation infrastructure in protected areas, and sharing conservation messaging globally.
Conservation work in Chinese zoos and other zoos are contributing to the ability of giant panda experts to develop reintroduction programs that could be put into action in the near future.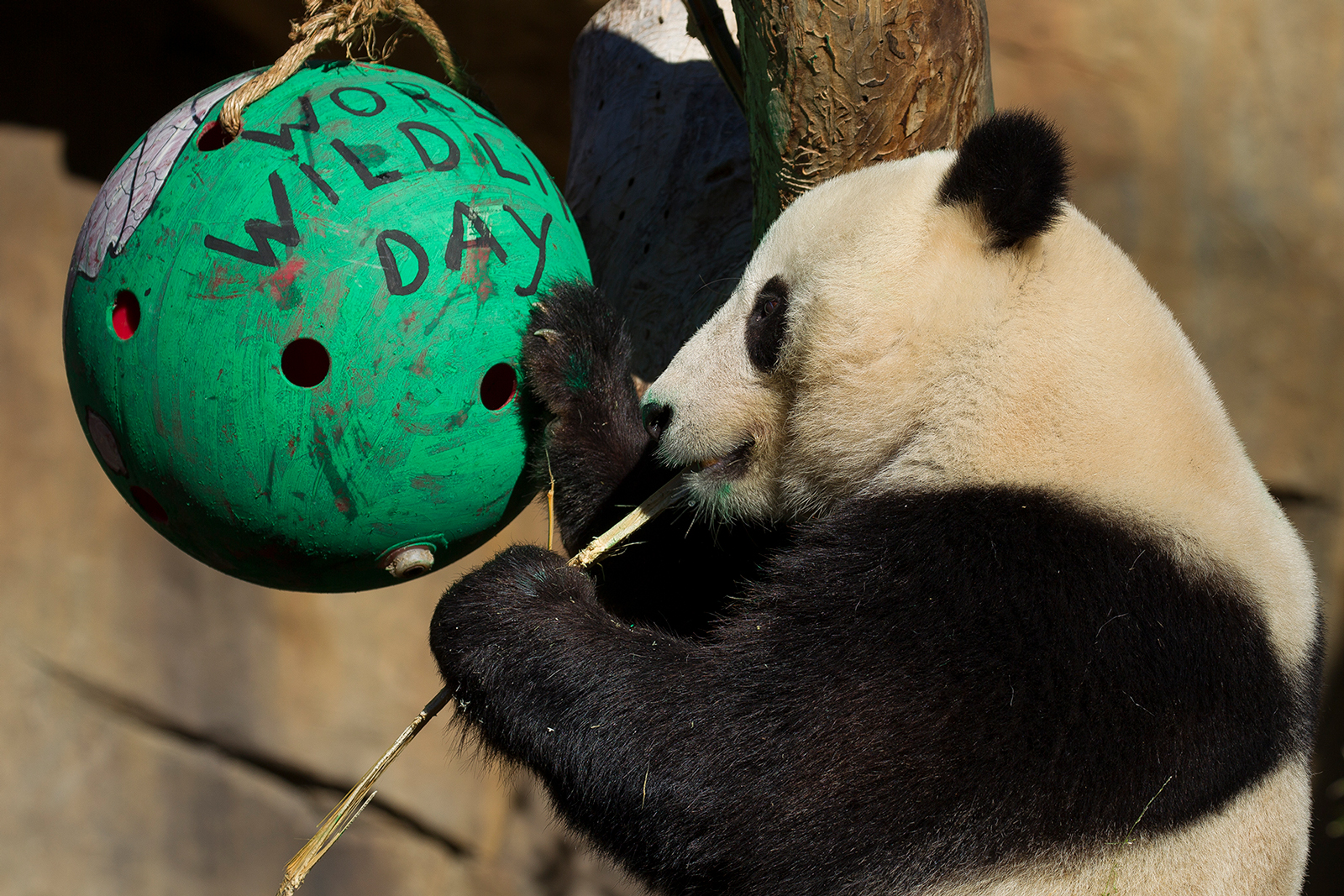 As a result of worldwide conservation efforts, after more than 20 years on the endangered species list, world conservation leaders "downlisted" the giant panda in 2016. It is now categorized as Vulnerable on the International Union for Conservation of Nature (IUCN) Red List of Threatened Species—meaning that while threats to pandas' survival remain high, indicators show the species is in less danger of extinction than before, and conservation efforts are working. Giant pandas are still listed as endangered as defined by the U.S. Endangered Species Act.
Zoo guests can visit mama bear Bai Yun and her cub Xiao Liwu in their temporary habitat in Panda Canyon.